In this post I'm going to share a few of my favorite donut shop promotion ideas.
As a business there are two central ways to increase revenue, get more customers or get your current customers to spend more money. And pretty much every business wants to do both all the time.
But when planning out a promotion I think it's best to hone in on one of those objectives. You're either running a promotion to get new people to come check out your donut shop, or get people there in the shop to open up their wallets and spend a bit more.
With all of these promotions, make sure you do what is necessary to track how successful they are. Do they actually bring in more customers or get people to spend more money? The only way to answer those is if you measure your business as you run the promotions.
I recommend testing out a few different promotions to see what your customers respond to.
Increasing Customers
If you're looking to get more new customers through the door these may be great promotions to test. These promotions can be used in conjunction with many different donut shop marketing ideas.
If you're a brand new shop or you're the new owner of a shop that already existed this is the best place to start.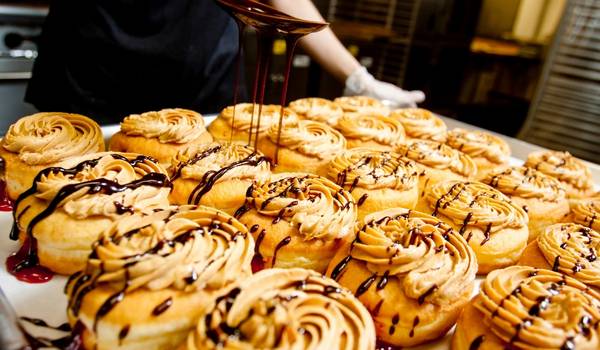 Free Donut Day
As a business owner, giving away your primary product for free can be a bit frightening. But when your product is consumable, it can make a lot more sense.
Give them a taste and you'll increase your chances they'll come back for more.
The point here is to simply give away a product completely for free. You could do this with just about any consumable product you sell.
One way to approach this is with a free donut hole day. Run a campaign offering 6 free donut holes just for stopping by. It will get people in the door and they'll likely buy something else while they're there.
Another way to run this free donut promotion is to give away free donuts to a specific group of people like firemen or police officers or teachers. Or to give free donuts to kids on the last day of school.
The nice thing about this promotion is it can work really well on social media sites like Nextdoor. People love to get free stuff and will quickly share the promotion with their friends so they can also get free stuff too.
Free Product with Purchase
Buy a coffee, get a free donut.
This easy to create donut shop promotion still gives away a free product, something people love, while still driving revenue for your business.
This type of offer can be a great incentive to get new customers to come in and try you out.
The customer will feel like they are missing out if they don't go get their "free" item and you'll bring in a new face.
A few ways you could do this include:
Free coffee when you purchase a dozen donuts
Buy a dozen get one free
Buy a breakfast sandwich get a free donut or free donut holes
Buy 2 dozen donuts, get 4 free coffees
New Product or Limited Time Product
New products can attract people who may not traditionally buy from you or who are looking for something unique for a special occasion. People are inherently drawn to what's new out of curiosity so use that to pull people into your donut shop.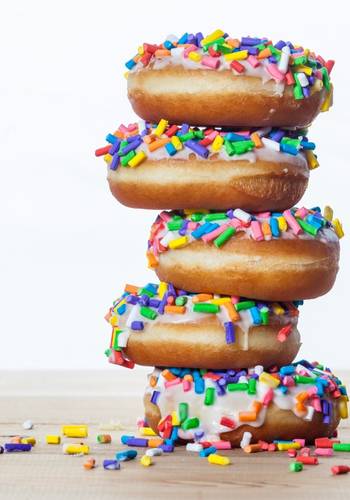 When you add something new to the menu, run a promotion advertising it. This can work particularly well if you have something none of the other donut shops in the area sell.
This can work really well around the holiday's if you sell holiday themed donuts or other breakfast foods.
Personalized Product
How about donuts that spell out Happy Birthday and the person's name? Or donuts for other special occasions like graduation.
A couple of donut stores in my area really focus on this specific product with great success. You can order a box of personalized birthday donuts that are decorated according to your birthday theme. It's a unique alternative to cupcakes or cake.
Increasing Average Order Value
These donut shop promotions can be effective ways to get people to spend a bit more each time they order. If you have a steady stream of regulars these promotions can help pull them out of their normal routine and spend just a little more than they usually do.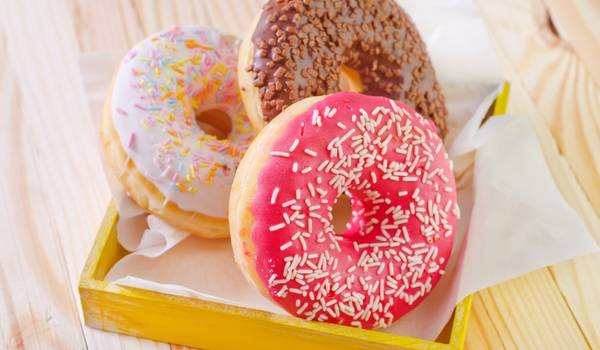 Product Bundles
One of the most common ways to increase average order value is to bundle products. Stick two or more items together and sell them for slightly less then if you bought them all separate. 
As a donut shop this may mean you bundle two colachies and a coffee. Or you could bundle a breakfast sandwich and donut.
You could run this as a one week special and then test different combinations to see what your customers like.
You don't necessarily want to run this on products people already frequently buy together. So if you have a lot of people who buy one apple fritter and a coffee you shouldn't run that as a bundle with a discount because then you may actually make less because those people were going to purchase it regardless.
Box for the Office, Free Coffee for Yourself
Buying a box of donuts for one's coworkers or employees is an incredibly common practice. The idea of this promotion is to get more people who are there visiting your shop to think of their coworkers when they initially stopped just for themselves.
Maybe they walked in planning on grabbing a donut and coffee. But while standing in line they see the sign that says, "Buy a box for the Office, Get Free Coffee for Yourself."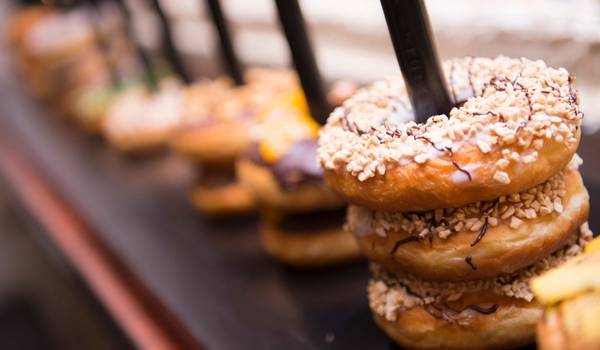 They think to themselves, if I do that I can still get my donut and coffee and make my coworkers' mornings better. Maybe I should do that.
It's a pretty basic promotion but it's one that would be easy to test and see what it does. I'd run it for at least a week but better to do at least two. Then see if you sold more donut boxes than before.
Gift Card Donut Shop Promotion
Another way to increase average order value is to sell gift cards. This is a promotion you could test during the holiday season to see if your regular shoppers will purchase gift cards as gifts for their friends and family.
This will take a bit more work if you're donut shop doesn't already sell gift cards. But once you have that function set up it's a fairly straightforward sell.
Just make sure it's a prominent display. You should include a headline on the display that says something like "the perfect gift for the donut lover in your life.
There are many other promotional ideas you could test out including dollar off and percent discount offers. Those are straightforward so I didn't cover them here but that doesn't mean you couldn't also test those.
Even though you aren't an ecommerce business, you can also check out this post on the best ecommerce promotions to help you come up with even more ideas.
Have more donut shop promotion ideas? Share them in the comments below.