In this post I'm going to share a few of my favorite cake shop promotion ideas.
When it comes to increasing revenue for your cake or cookie shop there are two main options, get more new customers or get more money from current customers (higher average order).
And just about every business always wants to do both at the same time.
But when planning out a promotion for your cake shop, I think it's best to focus on one of those objectives.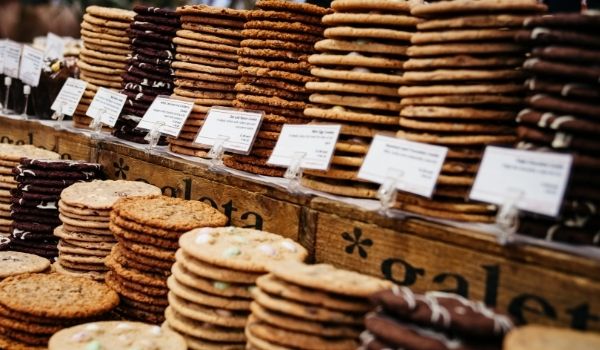 Either run a promotion to get new people to come check out your cake shop, or get people there in the shop to open up their wallets and spend a bit more.
With every promotion you run, make sure you do what is necessary to track how successful it is.
Did the promo actually bring in more customers or get people to spend more money? The only way to answer that is if you measure your business as you run the promotions.
And like all marketing, I recommend testing out a few different promotions to see what your customers respond to.
Some will work, others will be duds.
Last thing.
When many people hear promotion they think it automatically means a discount. But a promotion doesn't have to include a discount. I think of a promotion as simply a focus on a specific product or set of products from your catalog.
Cake Shop Promotion Ideas for Increasing Customers
First up, let's look at promotions designed to get more new customers through the door of your cake shop. These promotions can be used in conjunction with many different cake shop marketing ideas.[internal link]
If you're a brand new cake shop, or you're the new owner of a shop that already existed, this is the best place to start.
Free Cookie Day
As a business owner, giving away products for free can be a bit frightening. But when your product is consumable, I think it makes a lot more sense.
I mean really, no one eats just one cookie.
And when you sell a dozen different flavors (not to mention all the other treats), there's always more for them to try.
Give them a taste and there's a good chance they'll come back for more.
The point here is to simply give away a product completely for free. You could also do this with cupcakes or cake pops too.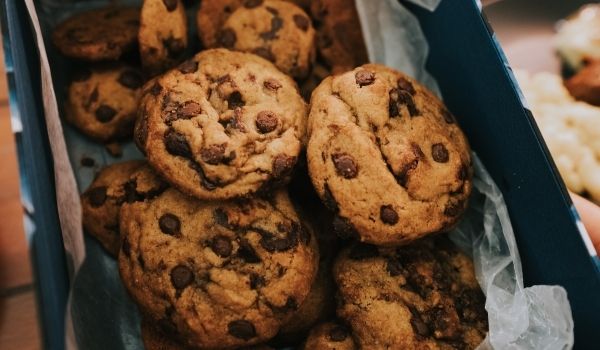 The way I'd run this is to run an ad on Facebook or Nextdoor and announce a free cookie for every customer who comes by on a specific day. This way you can prepare for that specific day with extra baked goods and with marketing materials to give out to customers.
Another way to set up this cake shop promotion idea is to offer a free item to a specific group of customers like all new high school grads, police officers, teachers…or marketers, you know, if you're feeling generous.
Anyway, the reason this can work well is these specific groups will pass it around to other people in their group so they're all aware. This brings great awareness for you and can be a great way to make a specific group feel special.
What I love about this promotion is it can work incredibly well on social media sites like Nextdoor. People lose their minds over free stuff and will likely share the promotion with their friends so they can get the free stuff too.
Just make sure you share the caveat, "while supplies last."
Free Product with Purchase
Buy a cake, get 6 cake pops free.
It doesn't get much easier than that.
Like the cookie promo idea above, people love free stuff. And while this one isn't free, free, it's still free.
A few ways you could do this include:
Buy a dozen cookies, get one free
Buy a wedding cake, get two free cupcakes
Buy 3 dozen cupcakes, get a free apron
Ok, that last one isn't that great. I just wanted to illustrate that the free item doesn't have to one of your food items.
New Product or Limited Time Product
People are inherently drawn to what's new.
And this can work particularly well when you play off of current trends.
For example, have you seen the number of restaurants and fast food joints promoting spicy foods? Could you create the "spiciest cake pop this side of the Mississippi"
…Do people still use that expression?…
Or maybe a ghost pepper cookie?
It's not for me, but I'm sure you could get a few people into your shop and even more visibility on social media with a unique product like that.
When you add something new to the menu, run a promotion advertising it.
Even if you aren't adding some weird trendy item to your cookie shop menu, you should still promote seasonal items or products targeting a specific group of customers.
When it hits April and high school or college graduation is around the corner start promoting your graduation party treats. Remember, a promotion doesn't inherently mean there's a discount, it's simply focusing in on a specific product or category of products.
When you launch a new product be sure to place it on the homepage of your cake shop website.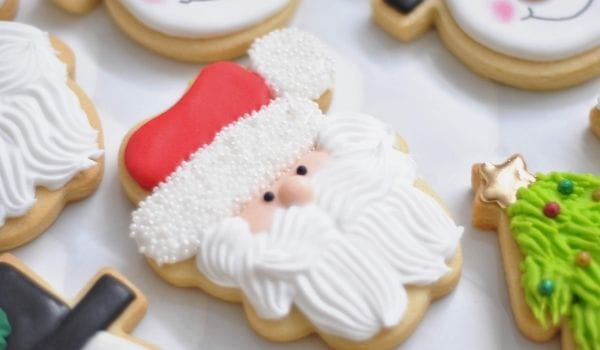 Personalized Product
Ok, I'll admit, one of the big reasons a person goes to a cake shop is to buy a personalized cake. But this fact can still work to pull new customers into your cake shop.
I'm not going to overcomplicate this. Snap pictures of the cakes you're proudest of. The impressive designs, great fondant work, and unique names on the cake.
Then run those in your social media posts and ads.
You can use headlines to really focus on capturing those people who normally don't get something quite so personal. Here's a few headline ideas:
Make their birthday truly special with a cake that wasn't produced in a factory.
They'll feel like a million bucks when you give them this birthday cake
To those who never found their name on a keychain, we're here for you. (with a picture of a unique name on a cake)
Increasing Average Order Value
On to our next category of cake shop promotion ideas. Those that help customers open up their wallets just a bit more and increase your average order value.
Product Bundles
Easily the most common way to increase average order value is with product bundles. Stick two or more items together and sell them for slightly less then if you bought them all separate.
Your cookie shop could run a discount when someone orders 3 dozen cookies. I wouldn't run a discount on 2 dozen but I would start to discount when they hit 3 dozen. The idea here is to get those people who think, "Is 2 dozen enough?" Then they realize for just a little bit more they could just get 3 dozen and know they have enough.
Another option is to create bundles for specific events, like a kids birthday party bundle that includes cupcakes and candles and plates, etc.
Or an office celebration bundle that includes a variety of cookies, cake pops, and cupcakes. A bundle like this makes it easy on the office manager who gets tasked with planning the party.
"A mix of everything? That's exactly what I need."
Go through your product options and see what makes sense to turn into a bundle.
Cake Upsells
Since custom cakes are likely your biggest revenue generator, look for ways you can include upsells.
Here's a few upsell ideas:
Go from a two tier cake to a three tier cake.
Or "many couples will get a smaller wedding cake in addition to their multi tier cake for them to cut up and eat in front of the crowd."
Offer a more intricate design for just a bit more.
Professional photos of your cake when it's delivered to add to your wedding album
Include candles for the birthday cake
Of course you can also simply do the classic upsell at the register when someone makes a purchase like, "Would you like a cake pop for the road."
There are many ways you can add upsells to your business so take some time to look at your products and figure out what might make sense for your business.
I think this is one of the easiest to implement cake shop promotion idea on this list.
Gift Card Cake Shop Promotion
Another way to increase average order value is to sell gift cards.
This type of promotion is one I'd really lean into heading into the holiday season or the wedding season. Just set up a display at the register with a couple of different branded gift cards they could choose from.
You could even incentivize the gift cards with a free cookie with every $25 gift card or something to that effect.
Change the language of the display based on what season it is. During graduation you could run something like, "Give an unexpected graduation gift."
There are many other promotional ideas you could test out, including simple dollar off and percent discount offers. Those are straightforward so I didn't cover them here but that doesn't mean you shouldn't also test those.
Even though you aren't an ecommerce business, you can also check out this post on the best ecommerce promotions to help you come up with even more ideas.
And there you have it. A few of my favorite cake shop promotion ideas you can implement for your business.