In this article I'll break down a few ideas on how to increase your donut shop reviews.
For most local businesses, customer reviews play an important role in bringing in new customers.
People frequently search using Google, Facebook or Yelp to help them find local businesses to use.
Making sure you have many good reviews on these platforms is an often overlooked aspect of bringing in new business.
The Message
Before we get to the ideas on how to get more donut shop reviews, let's talk about the message your going to use to prompt people to leave a review.
As a smaller, independent business, you have a big advantage in getting reviews. Most people want to feel like they are supporting the businesses in their community.
You want your message to be direct and to the point but still play on that emotion.
Using language such as, "customer reviews are vital to small businesses like ours. If you enjoyed your donut, please take a minute to leave us a review: (short url that goes directly to the review form)."
If you are printing items you can also include a QR code for customer to scan that goes directly to the review form.
Just Ask
The easiest strategy to implement is to just ask at the register.
"Thanks for stopping by. Be sure to leave us a review on Google if you enjoy your food."
No, it probably won't lead to tons of reviews but it is an easy to implement strategy you can test out.
Just make sure you aren't saying this over and over to your frequent customers as that could get annoying. 
You also need to make sure your review request doesn't include an incentive. You can check out Google's policy but each review platform has their own.
While you can't use a discount to prompt reviews, you should still take a look at my article on donut shop promotion ideas to help grow your business.
Ask Your Regulars
If you are just starting out trying to get more donut shop reviews, consider asking a few of your regular customers directly. They come back to you often for a reason and a portion of them will likely be willing to write a brief review on Google for you.
Just let them know how grateful you are for their business and then make your ask.
Asking people directly can certainly be a bit nerve wracking. You don't want to bug someone and suddenly lose their business. But if they are already visiting you often enough for you to recognize them, you probably have nothing to worry about.
On Your Box or Bags
A fairly easy place to add a message asking for a review is on your donut boxes or bags.
Most donut shops I've visited use generic white boxes and bags with zero branding on them. But to do this you'll have to start ordering custom boxes (if you need a cheaper option you could print custom stickers and put those on the box but I think custom boxes are a better option). 
Custom boxes have a few benefits. One, it allows you to add messaging about a review and two, it distinguishes you from other businesses. This can help when people post pictures of your donuts on social media.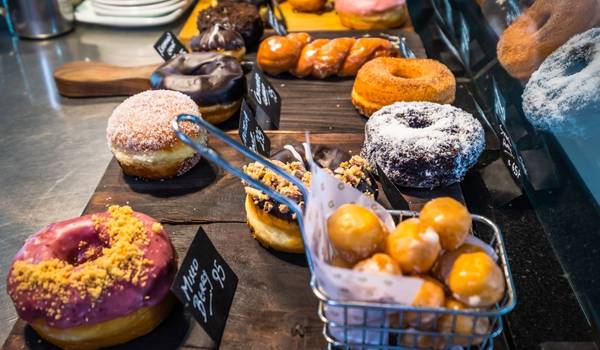 Arguably the best place to print the message about leaving a review is on the inside of the box lid. That way when people open the box they'll see text that says something like, We're those donuts delicious? Be sure to share your love by leaving a review here:"
If you want to print it on your bags as well I'd recommend printing it on bottom half of the bag because the top portion is often folded over or get crumpled from the person holding the bag.
Sign on Tables & Counter
The easiest place to ask for a review is while customers are there in your business. A small sign at the counter is a basic place to start.
But admittedly, it's unlikely anyone will stop right there and leave a review. But it's an opportunity to put that message in front of them so later, when they are eating your food and see the review prompt on your packaging they may actually do it.
If you have tables inside your donut shop you can also include a review prompt there. People won't feel like they are rushed and can actually take the time to write a review, unlike when they are standing at the counter.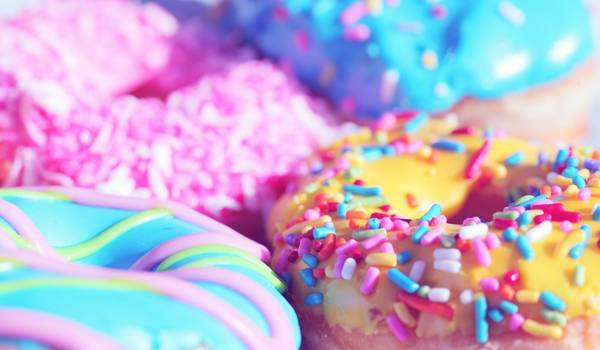 Email
If you collect customer emails this a great place to ask for reviews. Customers who have you their email address are probably already fans.
So send out an email and tell them thank you for being a customer and ask for a review. Be sure to include the link directly to the review form in the email.
If you want to start sending out emails be sure to check out my article on email marketing for donut shops to help you come up with a good email strategy.

Have more ideas to get more donut shop reviews? Share them in the comments below.