In this post I'll help you learn how to get repeat buyers using easy to implement cake shop email ideas.
If you've clicked on this article it means you're at least considering using email marketing for your cake shop (or you're using it already).
So let me start off by saying way to go! Most cake shops in my experience aren't even thinking about it let alone using it.
Email marketing is one of the best tools you have for getting customers to come back again and again.
Well, that's not entirely true. Your cakes, cookies, and treats are really what bring them back. Emails are simply there to remind them how much they NEED your treats in their life.
Of course, the first challenge with email marketing is getting email addresses to actually send to, so let's tackle that first.
Collecting Customer Emails for Your Cake Shop
The first hurdle you'll face when starting your email marketing program is going to collecting customer emails.
Over on my article of marketing ideas for cake shops I shared one tactic for getting customer emails.
"Typically you need to offer an incentive to get people to hand over their email. A free small cookie or other treat (instead of a discount) could be a fantastic option when they're standing there at the counter paying for their order."
It's a simple method that should get a fair number of conversions.
The downside is that you could end up with a fair number of junk emails. It's really up to you as the person prompting the offer to really sell them on how much great content they'll receive. If you add a birthday email (discussed below) I'd mention they'll get a special birthday surprise. 
That will give them some incentive to hand over a legit email address.
Another method of gathering emails is for your custom cake clients (weddings, birthday's, etc.). Since you'll be working with them on the cake you'll likely be emailing back and forth. When you've completed their cake you can ask for permission to reach out to them in the future. They're almost guaranteed to say yes and now you'll have someone you can reach out to to sell another product to in the future.
Contests
Another popular method for collecting email addresses is to run contests.
In this case, I would run a contest for a free wedding cake. Then run some ads promoting it on Facebook targeting your local city.
Make one of the requirements to live within a specific distance of your business and then require people who enter to include their city and state. You don't want to select a winner and then find out they live several states away.
This will also help you filter out other people who will never become your customers based on their location so you can remove them from your email list.
Coupon Offer
Another option instead of giving them a free item right there at checkout in exchange for their email address is to offer a discount code.
Discounts are popular cake shop promotion ideas and they can be a strong incentive for someone to hand over their email address.
This could be as straightforward as a 10% discount off of the items they're about to buy. Or a discount on a future order.
Designing Your Emails
Most small business owners have challenges adding email marketing to their long list of to-dos. So my recommendation is to keep your design as simple as possible.
While yes, you could spend a ton of time with images, layout, and gifs to make your emails look just perfect, that will also eat up a ton of your time.
When you're just starting out, just type up your emails in plain text and send them out. They're quick to produce and quite effective.
Feel like you aren't a good writer?
Pretend you're writing an email to your best friend.
We live in an age when people are accustomed to more raw, organic communication. You don't need to look all buttoned up and perfect to excel. In fact, many people see better performance when they communicate in a more natural way.
Of course, you are selling a product that is highly visual, so I'm not saying a heavily designed email is bad. Just don't feel like you must do that in order to start sending emails.
Email Campaign Ideas
I'm just going to include a few specific email ideas here. As with all marketing, test different ideas and see what performs well and what doesn't. Then adjust.
The "Extra Inventory" Email
Want to drive people to your cake shop ASAP?
Run this cake shop email idea.
Send out an email to your customers announcing extra inventory of a specific product. No need to overcomplicate this promotion, here's what you could send:
Subject Line: "We Baked Too Many Cookies!"
Preview Text: Don't Miss out on this delicious cookie sale
Body:
Hi (First Name),
You ever pop in your headphones at 3am, start jamming to a song and lose track of how many scoops of flour you've put in the mixing bowl?
No? Just me then huh?
Well, my mistake is your windfall. I tripled my normal cookie recipe and have way too many fresh cookies here. Swing on by today or tomorrow and buy two cookies, get one free.
This applies to boxes too!
A box for you, a box for your kids, and a free box for your neighbor.
It doesn't get much sweeter than that.
And no, I'm never going to stop making that pun 😉
See you soon!
(Your Name)
Wedding Anniversary Cake Email
Here's a really straightforward idea.
For every wedding cake customer you have, collect their email address and wedding date. Then, a few days before their 1 year anniversary, send them an email congratulating them and then offer to sell them a mini version of their wedding cake to celebrate.
"Your wedding anniversary will arrive soon! How about you surprise your significant other with a mini version of your wedding cake!
Our wedding cake customers absolutely LOVE devouring these little cakes on their wedding anniversary. An evening of cake and looking back at your wedding pictures is a fun way to celebrate the 1 year mark. The cakes are only $$$ and we can have it ready for you on the morning of your anniversary (or whenever you need it)…."
Then include a picture of a small cake made for two with a topper or decorative text that says 1 year. Include the price of the cake.
If you use a CRM to manage your customers this would be really easy to autmomate. Just collect their wedding date and then set up the email to go out 10 days before the anniversary.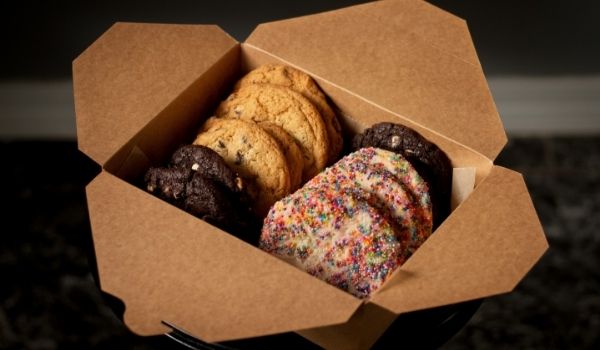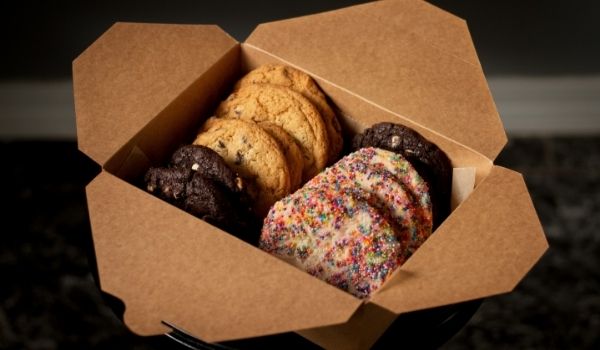 Repeat Birthday Cakes
This is very much the exact same idea as the 1 year wedding anniversary but applied to birthdays. Collect the birthday and then email them a couple weeks before reminding them about the birthday coming up.
In this case I'd give a special discount on the cake or some other offer to try and incentivize the repeat purchase.
Emails to Business Customers
If you're using a CRM for your cake shop (which I would definitely recommend doing) it can be easy to separate your business customers from your non business customers.
Then you can send out distinct emails to company employees who have purchased cakes, cookies, or cupcakes from you in the past.
I'd put businesses on a once a month email so you stay connected with them but adjust your promotion each month. I'd place a special emphasis at the end of the year on your delicious sweets for their holiday party.
If you have a promotion you really want to push, you'll want to send out multiple emails to your business customers. Send one announcing it and then at least one more before the promotion ends as a "last call" email. In my experience, these last call emails tend to drive just as much if not more revenue than the announcement email.
A few other promotion cake shop email ideas you could send to businesses include:
4th of July party sweets
Spring birthday party treats
Office halloween cookies
Christmas Party Offer
These are just a few email marketing ideas any cake shop could implement. Have an idea you want to share? Be sure to share a comment below.
If you need help getting more reviews be sure to check out my article on cake shop reviews.